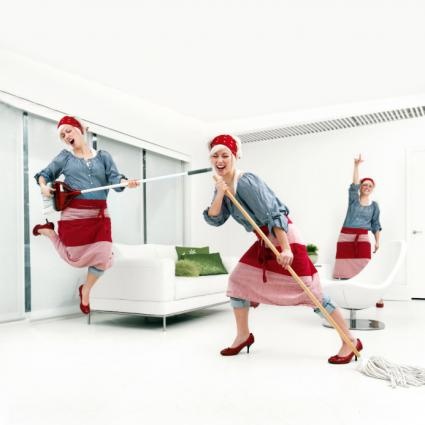 Fun and cleaning go hand in hand, especially when you have kids or room-mates. If you still wonder how can cleaning be fun, then read on.
If you live in dormitory or just share your accommodation with someone else, you can make cleaning fun for sure. There is nothing better than relying on your room-mate to empty the trash bin and throw the rubbish away, while you are washing the dishes. But, the only thing missing here is the fun.
Carpet cleaning for example is one of the hardest domestic cleaning challenges. Having the proper cleaning equipment can help a lot, but having a friend to give you a hand is even better. One cleaning game starts with vacuuming, but each of the participants should be armed with a vacuum cleaner. Speeding on the carpet won't make it clean, but deep and slow vacuum cleaning, aiming at collecting as much dust as possible will. Compare the results and see who has been cleaning more effectively. The winner will be granted a free dinner or anything that seems tempting and worth carpet cleaning for.
Follow the example of carpet cleaners in London. They clean by separating the room in zones, each requiring special treatment. Cleaning can be finished quickly if the work is well-managed. This includes it all, from dusting to sweeping. No matter how big is the room, it can be cleaned in seconds. If you have kids, just promise them you will take them to the ice-cream shop if they manage to deep clean the room, following your instructions. You will be pleased, they will be happy, and the room clean.