Yet another proof stars aren't much different from us – normal people. Non other than Anne Hathaway herself gives the perfect example. She already "cleaned" the competition at the Oscars this year and now it looks like she is getting ready for the real cleaning – the spring one.
Anne Hathaway won the award for Best Supporting Actress for her role in "Les Miserables". Fortunately, despite of this enormous recognition, she hasn't forgotten where she came from. Recently, the 30-years old actress was spotted in Venice, California, after a shopping tour, but not from one of those we would expect.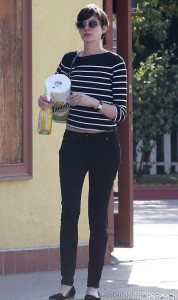 As you can see from the picture, the Oscar winner is clearly prepping for spring cleaning of her home. There is no other explanation than this, to why she is carrying cleaning supplies. And we thought stars hire people for everything .. Just see how adorable Ms Hathaway looks, in her casual wear – flats, dark skinny jeans and striped shirt.
Her long-time boyfriend Adam Shulman is one lucky guy, with this gorgeous, talented and caring woman by his side. Anne also showed herself as very modest at the Awards, praising everything about the movie, she won her first Oscar for, except her acting.
Anne, I was a fan already, but now I like you even more! If it was up to me, I would certainly give you an Oscar for being down to earth and doing the spring cleaning by yourself.