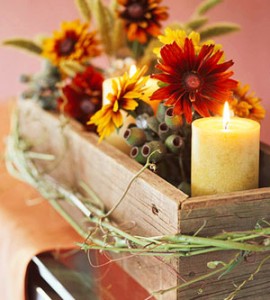 Now that the summer is over, you should not regret it, but even celebrate the upcoming fall with some interesting decoration ideas. Here is how to decorate your home and make it more appealing.
Fall is the season of warm colours such as red, brown, yellow and orange. These are the colours you should stick to. It is getting colder outside, but you can bring some warmth in trough these fall decoration ideas. Let's begin embellishing your home interior.
First of all, make sure your home is clean. Some fall deep cleaning can be necessary if you didn't have the time to undo all summer stains, for example. Try to clean the areas you want to decorate, as dust and dirt will not make your home look well at all. All finger prints on tables and walls should be removed. Use a slice of bread slightly moistened and then rub gently.
Decorate your walls. They need to be clean, so that anything can be fixed there once and for all. Here is what to do. Have you thought of making a wall clock? And what is more, you can make it with 13 picture frames, where you can put your favourite pictures from the best family moments. All you need is a clock mechanism, 13 frames and the right pics. Frames can be attached using nails and the mechanism needs a tiny hole in the wall. Arrange the frames in circle, surrounding the hole and then install the clock spindle and here it is, a wall clock designed by yourself.
Thematic light bulbs and chandeliers. After the deep cleaning, these tiny items should be already polished. Now you should only measure them and make a cover of paper that will fit. Use some gift wrapping paper, but choose light one that won't dim the lights.