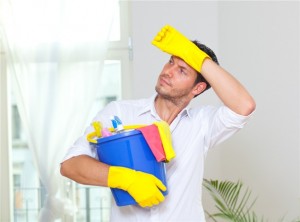 This is one of the most common problems women all over the world meet daily. Men appreciate a clean home, but they usually make no effort to clean it. To help you get your boyfriend/husband to do housework, here we offer you a few tips that can make your life significantly easier.
The easiest way to receive what you want is to ask in a respectable, loving way. So ask your man to do a chore without criticising him and blame him that he's lazy. It'll be much harder for hem to reject a lovely ask rather than say no to judgements.
Cleaning the whole home is the problem, so let him know this. It's important to make him understand that you can't deal with all chores that's why you need his help. As we all know, men love feeling strong and patronising.
Make it personal. Sarah from cleaners London advises you to be as calm as possible and ask your man for example, "Darling, I would be more than grateful if you would wash the dishes on the nights I cook." Thus way you'll reach his heart and encourage him to do everything he can to make you happy.
The most important thing you need to remember that criticism never helps in such situations. So try not to criticise your boyfriend/husband for his failing. Men aren't used to do housework, therefore, you need to appreciate his efforts and desire to help you and even more important show him your appreciation. This will undoubtedly encourage your man to increase his participation in housekeeping.
The advice above were provided by one of our greatest friends Sarah from cleaners London. We assure that her man do all chores that she wants him to do. So don't give a sceptical look at the tips above, they can make your life easier.