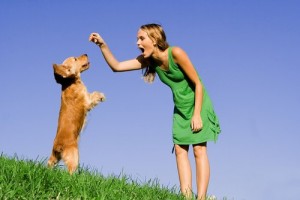 Having a pet is a wonderful thing. They say the dog is man's best friend. That is until he piddle on your bedroom carpet. Then you realize owning a dog is not all about fun, there are also responsibilities. Every owner needs to train his dog, so that it behaves properly. Here are some tips on what to do.
The earlier you begin to train your dog, the better. Professionals advise to start as soon as he enters your home. Training can be done by yourself or by hiring a professional. If you want to do it alone, there are some things you need to know.
It's important to socialize your dog with other people and animals when he is still a little puppy. Don't make the mistake of keeping him only at home until he grows up. By that time he'll be used only to you and your family, can develop behaviour problems and attack other people and dogs. You need to be in control of him, to avoid getting in trouble. He must to come to you, when called and know that you're his owner and only you're in charge.
Be prepared to clean some messes. There will be a lot of carpet cleaning in the beginning and all you'll want to do is potty train your new furry friend as fast as possible. In order to do that you must pay attention to his behaviour and watch for some signals. After eating or drinking he'll need to go outside. If you notice him sniffing around and acting nervous, quickly take him out.
Your puppy will need a lot of attention in the first months. If you leave him alone at home for the whole day, you may have to call professionals carpet cleaning London to clean the mess, he has made. Be patient and reward him for good behaviour.