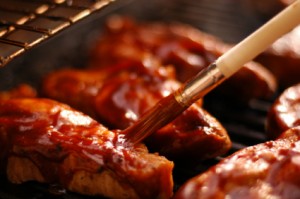 Everybody loves a barbecue now and then. Who doesn't? I think everybody likes to eat meat although not every meat type is healthy people continue to eat meat. And if you ask me meat is very delicious if prepared correctly and with the right sauce.
If we don't eat barbecue I simply enjoy having a KFC a lot. Fried chicken with barbecue sauce is very delicious. My favourite meal from KFC is the bucket of wings with corn. I simply adore this type of food. When I eat KFC I usually make a big mess of myself and a lot of barbecue sauce winds up on my clothes. After all when you drink a couple of beers you can't control your actions that much.
As the professional cleaners do, I always keep a couple of tricks up my sleeve after all this is not the first barbecue sauce stain I've dealt with. Usually if you follow the cleaning tips you can successfully get out the greasy barbecue sauce from the cloths. What you should do is simple:
Start by putting your cloth under in the sink under the tap directly and run water through it.
For cleaners Pentonville you can use white vinegar or hydrogen peroxide or lemon juice even liquid dish soap.
Simply apply the cleaning detergent you have chosen on the stain and let it sit there for a while.
In the end simply wash it and launder it.
Repeat the processes if you have to.
Never put the cloth in the dryer if it is not dry completely.