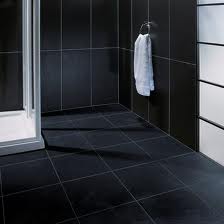 The bathroom is probably the most humid place in a home, and often people have to deal with mold when cleaning their bathrooms. Regular cleaning prevents germs, mold and dirt from getting on the bathroom tiles, also if it is done properly you will not have to clean as frequently. The tips below will help you to clean your bathroom tiles quickly and effectively.
Disinfect not only the tiles, but all surfaces in the bathroom, as this will prevent the spreading of germs to other areas of your home. Use a good disinfectant cleaner and a squeegee when cleaning bathroom tiles. The squeegee will help you to dry the tiles without much effort by your side.
Keep the moisture away from your bathroom to prevent mold and mildew from occurring on your bathroom tiles. Make it a habit to turn on an exhaust fan after showering or using a substantial amount of water in the bathroom. Ventilate the bathroom by keeping a window open even when showering if possible. By taking these simple steps, you will reduce the level of moisture drastically, which is key in keeping bathroom tiles clean according to many professional cleaning services providers.
Eliminate bacteria and prevent their future occurrence on your bathroom tiles by applying a thin layer of car wax with a clean cloth after cleaning. The car wax will make the tiles look clean and shiny, also it will protect them from dirt, mold and mildew. Remove any wax build-up between the tiles by running your finger covered with a clean cloth over the grout.
For extremely dirty bathroom tiles, consider using professional cleaning services. Professional cleaners use specialized products and equipment that will help them to get your entire bathroom thoroughly cleaned.