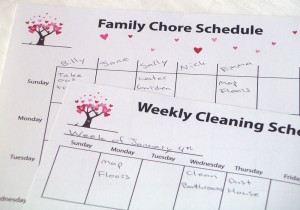 Cleaning might not be one of the most pleasant things to do, but it doesn't have to be an impossible job. Most of us decide to do cleaning during the weekend.
When the busy working week is over and you are in desperate need to get some rest, you suddenly find yourself in the middle of the huge mess in your house, which definitely doesn't make it the right place to relax in. Some of you would prefer to call a cleaning company to get the house professionally cleaned without making any efforts. Using professional cleaning services is very expensive though. Sometimes you will need to take care of the whole mess yourself and if you don't want cleaning to consume all of your weekends, you will need to develop a weekly cleaning schedule.
First thing you need to do is to list all the things that need to be cleaned and highlight the most important ones. Then you just spread them around the week, doing one task a day. This won't take more than one hour of cleaning a day, and at the same time, you won't have lots of cleaning tasks left for the end of the week and so you would be able to dedicate the weekend time to relaxing instead of cleaning.
Here is an example weekly cleaning schedule, suggested by cleaning services Wimbledon:
Monday – sweep all floors in the house.

Tuesday – Change the sheets and do the laundry

Wednesday – Clean the bathrooms. Mop up the bathroom floors carefully

Thursday – Dust all the rooms in the house

Friday – Clean the kitchen. Pay special attention to the kitchen countertops and the oven top. Mop up the floor.

Saturday – Vacuum clean all the floors In the house

Sunday – you could either do some small cleaning tasks such as cleaning the refrigerator or the fireplace, or spend the whole day relaxing and getting ready for the busy week
If you make a schedule like this one, you will see that cleaning is not such a difficult task. You could also involve all the family members in the cleaning process, assigning a different task to each one of them.