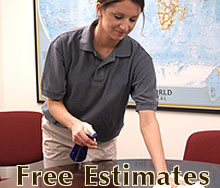 Most people who own businesses do not pay enough attention to the look of the environment of the workplace. But when it gets really dirty they face up the problems and look for the help of professional cleaning services. Actually commercial cleaning is so developed in the industry, because of the many businesses. That is why office cleaning business is so profitable, everyone needs cleaning.
To successfully manage cleaning business you need of a range of loyal clients. In fact attracting customers is one of the hardest things, since there are many cleaning companies, providing services.
There are several ways to market and get customers, effectively enough to operate on the market and earn money.
The first tactic is to create flyers and business cards. If you want to create the design of the advertising materials, then use a computer software program such as Microsoft Publisher. If you do not have time to deal with such things, you can order the number of flyers and business cards and the way you want them to look and after three days they will be ready.
Nowadays Internet is maybe the best source of information. People use the world-wide web to search for anything, because it is easier and not costly. That is why you will need of a professional website. But you if you do not have the needed computer and programming skills, then you must hire a good web designer. You can buy a domain and pay monthly fee, which actually is not that much as a price. Add your contact information and all the cleaning services you offer and their prices.
Another method of getting more customers for your cleaning business is the cold call. Take the phone book and get the full list of new businesses in your area. Do not miss to call to everyone from the list and when they pick up the phone, ask to talk to the office manager or even the owner (if the business is a small one). First introduce yourself and the reason of your call, and offer to provide a free personal estimate.
Marketing is really important sphere and every business needs marketing strategies to get improved and successfully managed. For this reason plan to spend several days marketing your cleaning London services in person. Go and visit different companies and when you leave in an elegant way give your business card to the manager and wish him/her to have a nice day. If you are not able to meet the managers or the owners of some companies, just leave your coordinates with the receptionist and then call again after several days to arrange a meeting with the persons you want.