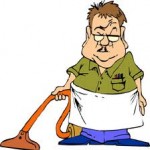 Vacuuming your carpet is essential part of maintaining its looks, but it is not always enough. You may feel that you accomplished your task as you vacuumed the dust and debris from your carpet, but sometimes you need to go beyond using your own vacuum cleaner, and find a way to clean your carpet thoroughly.
Even if you use a high quality vacuum cleaner, it is important to clean your carpet thoroughly at least once an year, as this will prolong its life and make the home environment healthier. Vacuum cleaners cannot remove all of the dirt that tends to build up into your carpet. Except food residues, grit, grime, and debris that can easily be removed by vacuuming, there are abrasive substances such as dirt and sand which create unnecessary wear to your carpet.
You can choose to perform the deep carpet cleaning on your own or use professional cleaning services. When you consider cleaning the carpet yourself, there are several techniques you can use. These techniques include bonnet cleaning, dry cleaning, steam cleaning, foams, shampoo and shampoo combined with extraction. You should decide which cleaning method suits best on your carpet fibers before going through the deep cleaning.
Using some of these deep cleaning methods will extend the life of your carpet, protect its colour, and keep dirt away. However, it is not always possible to handle the carpet cleaning on your own, so consider booking deep carpet cleaning.