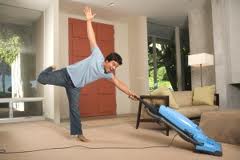 Housework is among no ones favourites. Most people think that it is boring, tiring and annoying, but no matter what they think, they have to do it.
Carpet cleaning is part of the list with domestic chores. In fact, it is one of the most important tasks in this list and the one that requires attention the most.
Carpets are very delicate pieces of furniture and as such they have to be taken care of very carefully. This makes the task even more annoying. There is a way, though, to make this unpleasant chore into a funny activity.
You have probably watched the clip of the song "I Want to Break Free", sang by Freddie Mercury from Queen a couple of decades ago. Do you remember how he was having fun while cleaning with the vacuum cleaner? Well, you can be like him.
As you have to vacuum every day, you can use this as a morning out. Play some music, grab the vacuum cleaner and dance while you are cruising around your house with it. In my opinion if you start thinking of cleaning as of a nice morning work out, you will not feel the time passing and you might even start liking carpet cleaning. Moreover, this type of workout combined with a nice energetic song will charge you with power for the new busy day.
If you can't get used to these morning work outs, though, you can always skip this task and leave it for the professionals from carpet cleaning London. They will be happy to clean your rug for you.